Doncaster Rovers are streaming clear of the pack at the top of league 1, and with yesterdays win are now on 72 points and looking the best for the league 1 title. Yesterday's game put them into a commanding position.
1st Half
Doncaster were ahead after 5 minutes after David Cotterill came forward with the ball and with a brilliant cross made defender David Mirfin put in to his own net. So then Doncaster pushed on for another with Brown, and Cotterill going close, Scunthorpe went close with Duffy as well. After that piece of play the ball came to Defender Rob Jones who then just lofted it forward first time and Ian Hume latched on to the ball through ball and made it 2-0 Rovers. Then on the stroke of half time, Duffy was fouled and Rovers conceded a free kick which Duffy took well to go into the break at 2-1 to Rovers.
2nd Half
Rovers came out with a hunger to score a 3rd and finish Scunthorpe of. With Brown going near again and Scunthorpe with Duffy coming forward he put his shot wide of the post. Scunthorpe looked the most dangerous for periods in the 2nd half but it was Doncaster who made it 3-1 with Chris Brown finding the net with a tap in after James Husband pulled it back to him then Scunthorpe were looking to get a 2nd so then they would get back in to the game,and it came on the 85 minute after Karl Hawley scuffed his shot and it found the net past Gary Wood Scunthorpe pushed for the 3rd but ran out of time.
Manager Brian Flynn said
"I thought we started brightly. Scunthorpe start games strongly and we needed to match their start, and we did in the first and second half.
"Generally I was delighted with the team ethic and the teamwork we've shown today.
"I don't like games in hand, I prefer the points and the pitch played really well.
"When I woke up this morning and I saw what was outside I thought there's no chance [of the game going ahead], but it's been good and the ground staff must be congratulated."
Scunthorpe United
26 Johansen

05 Mirfin

(Canavan - 46' )

06 Reid

18 Nolan

21 Newey

07 Ryan

16 Duffy

19 Collins

23 Forde

(Barcham - 53'

Booked

)

09 Sodje

Booked

(Grella - 71' )

22 Hawley
Substitutes
13 Severn

02 Ribeiro

15 Canavan

25 Hornsey

10 Grella

11 Barcham

27 Alabi
Doncaster Rovers
33 Woods

02 Quinn

03 Husband

05 Jones

14 Spurr

16 McCombe

11 Cotterill

12 Lundstram

26 Coppinger

09 Brown

17 Hume

(Paynter - 82' )
Substitutes
01 Sullivan

15 Wakefield

19 Griffin

04 Wilson

08 Paynter

18 Sinclair

23 Bennett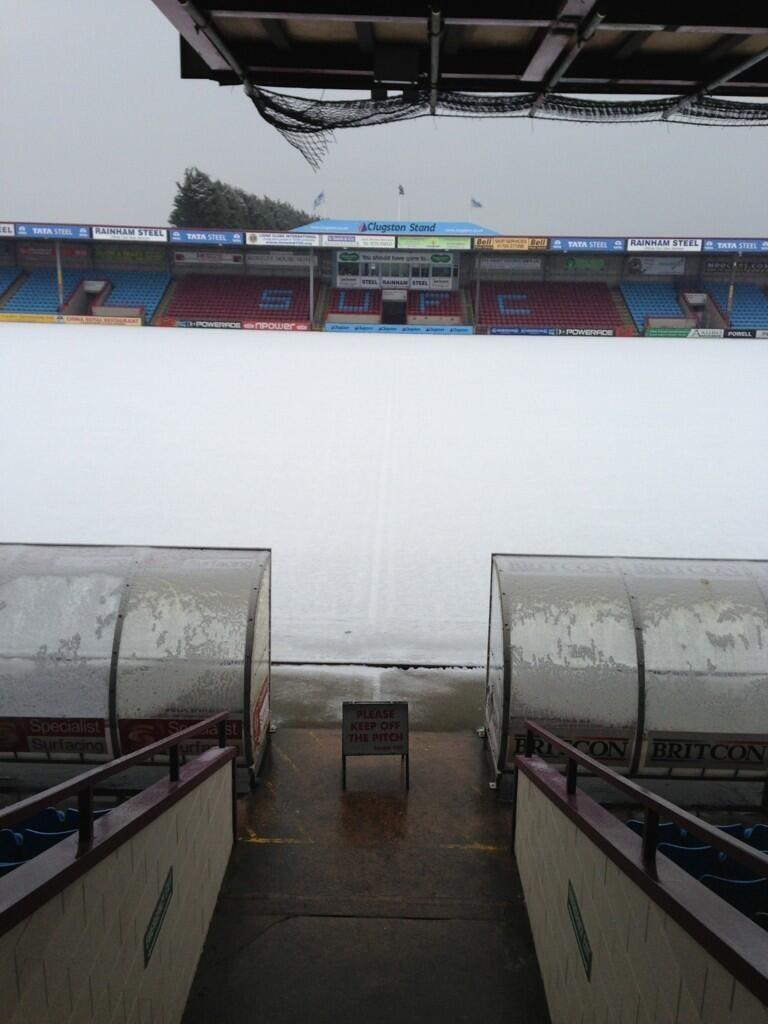 The ground at 10am